STORY OF GO CO HERITAGE VILLAGE PARK
Located on the thousand year cultural Sa Huynh land, Go Co village appears to be wild and peaceful but not less dynamic and full of vitality. The long-standing culture of the three periods, from Sa Huynh to Cham Pa and later, Viet seems to still permeate every inch of land, in blood and flesh of the inhabitants of this place. That cultural flow connects people with unique values from the past to present and future. Go Co has witnessed many historical changes, from hardships of the long-lasting wars to oblivion and spectacular revival. The internal resources are so strong that urge the indigenous community to continue maintaining the spirit of the Champa ancient village and put on it a new cover called "Go Co heritage village park".
Building the Go Co heritage village park model is the vision for the sustainable development of this village. It is because, while the world has global geoparks – a title honoured by UNESCO, Go Co village is like a miniature geopark. The village is located within the Ly Son – Sa Huynh geopark of Quang Ngai province. It integrates all values of geology, geomorphology, landscape, culture, biodiversity,…,which meets the criteria of a geopark with small scale of a village. Moreover, in this village, there are human values and a community-based economic model that has never appeared anywhere. Go Co heritage village park will make visitors cherish every steps and immerse themselves in the depth of the original values.
An ancient Champa village in the "cradle" of Sa Huynh culture
Sa Huynh is a strip of golden sand stretching from Pho Khanh commune, Pho Thanh and Pho Chau wards, Duc Pho town, Quang Ngai province. This land is the 'cradle' of Sa Huynh culture not only because the archaeological sites of Sa Huynh culture were first discovered here and have the earliest dates among the relics of Sa Huynh culture all over the central Viet Nam, but also it is the only place that still retains the original living space of ancient Sa Huynh people. The ideal natural conditions here including: diverse ecological environment, human geology, geomorphology,…were favorable for long-term living and created a long-standing culture. Nowadays, the place still contains the marks of a strong acculturation.
Located along Sa Huynh land, Go Co village is like a bright spot in the ancient cultural space with all the pride of a village that used to be the residence of Cham Pa people from 7th century to 15th century – the next residents who came after Sa Huynh people. Go Co village has only 83 families and it is located on a coastal rocky hill of about 105 hectares square. The roads here are bumpy and winding. The terrace fields overlooking the golden-sand beach bring visitors peaceful feelings. The geo-cultural imprints inherited from ancient Cham Pa people can be found everywhere around the village. Here, it seems that rocks also have spirits. It is present in every corners, together with the villagers to witness many historical events. Village roads, rice fields, fences, ancient wells, streams,….were meticulously arranged by human hands with metamorphic rocks – a type of rock dating back 250-400 millions years ago. Some of the ancient stone wells in the village are the relics built by Cham Pa people. The ancient wells have been and is still a water supply for the village in many years . It is also the connection between Cham Pa -Viet cultural traditions. The pure and rustic wells helped the village come through thousands of hot burning dry seasons which could not prevent tuber crops from being abundant. In regard to this, the villagers have a saying: "At dusk, eat tubers and go to sleep; at cockcrow, get up and eat tubers before going to work". Go Co will treat you with all kinds of typical tubers of the sunny and windy central land. Not only that, the hundred million year rocky cliffs which have the same age of dinosaur period and cover the east bank of the village bestow it with a diverse ecosystem, which is home to countless species of marine lives that attracts visitors. Coming to Go Co village, visitors will not forget the taste of cacti soup with Thung fish, baby oysters soup with sour leaves or steamed April squids with ginger….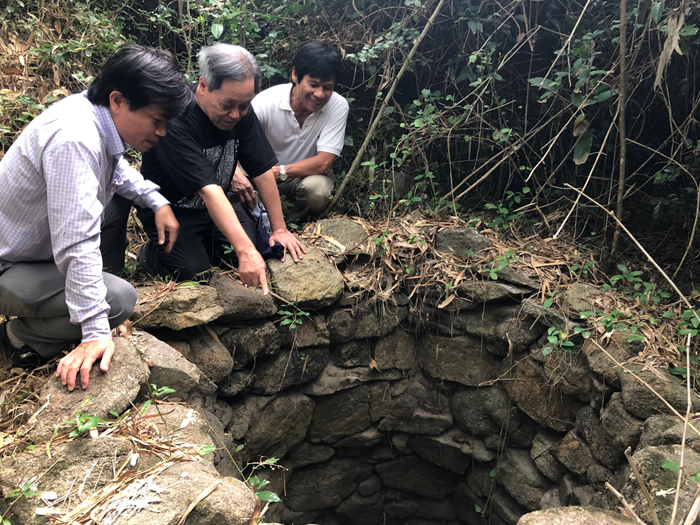 Experts survey old wells in Go Co
In the context of modernization spreading all over countryside areas, Go Co still preserves its thousand year cultural "fossils". While Sa Huynh and Cham Pa people who lived on the nature with rudimentary farming practices and created typical architecture associated with rocks, seas, hills,…,Go Co people still continue to preserve those cutural traditions nowadays. The living activities of Go Co people make visitors feel like the cutural marks of thousands of years ago still exist here. This is the result of the strong community cohesion in the village. The optimistic and assertive spirit as long as the desire for peace makes them cherish the essence of their mother land and preserve their long-standing cultural identity without being flinched by any external influences.
Go Co heritage village park comes from human values
Experiencing historical changes during the wars against French and American, Go Co village continued to struggle with harsh nature to nurture many generations. The permanent poverty made many people leave the village for new opportunities in cities. However, now, Go Co seems to revive and reach out in a new vitality. After being recognized by experts to its valuable heritages, the village can be seen an attractive destination within Ly Son – Sa Huynh geopark area.
Everything can change over time but the cultural "fossils" here still remain their values intact. It is because the humanity of Go Co people has never been lost. Their happiness come from their inner values. The internal resources are something that they are very proud of. Go Co people from the past until now have worked with their own abilities and lived with what has existed in the village since the beginning. The indigenous community deals with nature in a particularly civilized way. Land, forest, sea, water resources,…have been used and maintained in a pristine and charming for thousands of years. This heritage village park will show you the true values of life in a peaceful living space like when human were originally created. Here, the community bond is something that is hard to be replaced by temptations of material needs from outside. Therefore, Go Co people, with human values, is the most precious factor of the heritage village park. Go Co is suitable for those who wish to enjoy spiritual values and appreciate humanity.
Forming a new economic order in order to preserve humanity values
Go Co heritage village park sets a sustainable development goal on the principle of putting indigenous community in centre, which is accompanied by the guideline: People know – People understand – People discuss – People do – People manage. Human values will be maintained and nurtured when indigenous communities are equiped with knowledge and capacity building in a scientific way and stakeholders share benefits fairly and transparently. To achieve this, Go Co is building a community-based cooperative model in order to form a civilized coordination organization. The mission of the community-based tourism cooperative is to organize and coordinate conversation activities in order to enhance the capacity of indigenous people.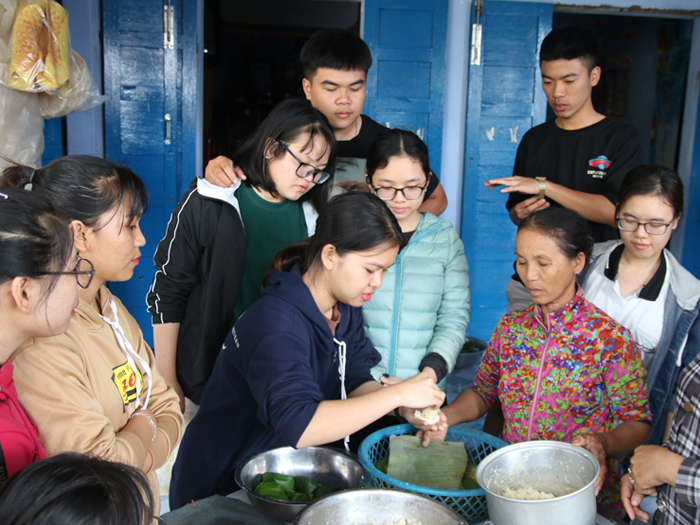 Go Co heritage village park takes community-based tourism as a driving force to effectively promote the internal connections of the village for sustainable development purpose. In this coordination model, the community organizes the implementation of conversation activities, tourism activities,…under the co-management mechanism with stakeholders: state, scientists, business. Here, a new economic order will be formed on the basis of preserving and promoting the centrality of people. Regulations are created by the community to enhance the management role of the natural resources and humanities of the village; at the same time, this ensures fairness, shared sustainable benefits among stakeholders.
Go Co heritage village park invests in and develops local people, at the same time, its identity factors are being wild and civilized on the foundation of thousand year cultural "fossils". However, it can always change flexibly to ensure it catches up with trends, preserve human values and create a new economic order that meets the objective: work by ability, enjoy by need. Go Co heritage village park will always welcome you as a member of the community here !